Pratiques de dénomination dans les listes de souscriptions publiques à Athènes au IIIe et au IIe siècles avant notre ère (IG II/III3 1.1011 et IG II2 2332)
Voluntary contributions (epidoseis) in Hellenistic Athens were key moments for the life and safeguarding of the city: all inhabitants of Attica were invited to participate. Although the procedures and aims of these contributions are well known, little has been said about the ways in which the participants registered on the preserved lists were named. This article aims to analyse the ways of naming and self-naming that are represented in these commemorative lists. Much more diverse than the usual form of name, patryonymic and/or ethnic, it seems that the ways of naming were the result of a negotiation between the honored and the honoring. The city was happy to respond to the requests of their generous contributors.
Les souscriptions volontaires (epidoseis) dans la cité d'Athènes à l'époque hellénistique sont des moments forts de participation à la vie et à la sauvegarde de la cité : tous les habitants de l'Attique sont invités à y participer. Si les procédures et finalités de telles souscriptions ont bien été analysées, peu a été dit sur les modes de dénomination des participants enregistrés sur les listes conservées. Cet article met en lumière les manières d'être nommé et de se nommer sur ces listes commémoratives. Bien plus variés que le formulaire normé (nom, patronyme et/ou ethnique), ces modes de dénomination apparaissent liés à une négociation entre le personnage honoré et la cité. Cette dernière répond volontiers à des demandes de ses généreux donateurs.
Fichier principal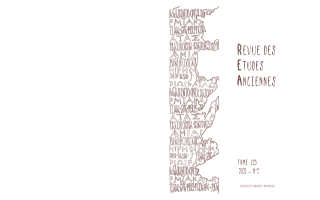 guicharousse-2-2021.pdf (1.51 Mo)
Télécharger le fichier
Origin : Explicit agreement for this submission