« Complot au Carcer : un nouveau regard sur l'affaire Pleminius (204-194 a.C.) »
This paper reconsiders a well-known episode of the second Punic war, the Pleminius case. It deals more particularly with one of Livy's versions, according to which the legate died ten years after being imprisoned for trying to foment a project of arson, in order to escape his prison. This case has often been discussed since Mommsen, and the hypothesis of a conspiracy has been dismissed many times. However, it seems that several methodological approaches have been neglected or, on the contrary, too quickly adopted in the study of the case : to reconsider the event by integrating some recent works on Roman imprisonment and to replace it in the longue durée of the republican period leads to new interpretations of both Pleminius's plot and death.
Il s'agit de revenir ici sur un épisode connu de la seconde guerre punique, l'affaire Pleminius (204-194 av. J.-C.), et plus particulièrement sur l'une des versions liviennes du récit, qui fait mourir le légat criminel dix ans après le début de son incarcération pour avoir, depuis sa prison, ourdi le projet d'incendier la cité afin de faciliter son évasion. Cette affaire a fait l'objet, depuis Mommsen, de vives discussions et l'hypothèse d'un complot de Pleminius a souvent été remise en question. Toutefois, il apparaît que plusieurs approches méthodologiques ont été négligées ou, au contraire, trop rapidement adoptées dans l'étude de ce récit. En reconsidérant l'évènement à la lumière de travaux récents sur l'incarcération à Rome et en privilégiant le temps long de la période républicaine, nous tenterons de proposer un nouveau regard sur le complot et la mort de Pleminius.
Fichier principal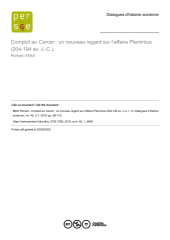 dha_0755-7256_2019_num_45_1_4698.pdf (340.62 Ko)
Télécharger le fichier
Origin : Publisher files allowed on an open archive