How to Be Freed from a Leadership Curse? A Political 'Code of Conduct' by the Nandi Council of Elders during the 2013 Elections in Kenya
Comment conjurer une malédiction de leadership ? Le 'code de conduite' politique du Nandi Kaburwo Council of Elders lors des élections de 2013 au Kenya
Como libertar-se de uma maldição de leadership? O 'Código de Conduta Política' do Council of Elders (Conselho dos Anciãos) de Nandi durante as eleições de 2013 no Quénia
In April 2012, more than a year before Kenya's 2013 elections, the Nandi Kaburwo Council of Elders in Nandi Hills undertook the original task of writing the Nandi County Political Code of Conduct (NCPCC). Throughout Kenya, the pre-election period was characterized by a significant involvement of councils of elders in spreading messages of peace and promoting "good leadership," unlike 2007 when these councils played an active role in mobilizing Kenyans to take part in the post-electoral violence. Printed as an 8-page booklet, the NCPCC was targeting local candidates, their supporters and political parties. It displayed regulations aimed to contribute to the "transformation of Nandi County" into a prosperous place, an "island of new politics, free of political madness." Inspired from the role models of the Kenyan "Goodwill Ambassadors" for peace put in place in 2012, and based on oral narratives about iconic pre-colonial Nandi leaders—such as Kimnyolei and Koitalel Samoei—, this code of conduct brings to light cultural, social, economic and political dynamics mobilized by a wide range of actors (NGO, elders, candidates, entrepreneurs) during electoral times. Therefore, I believe it is crucial for the researcher to present and analyze it as a primary source that illustrates the aspirations and strategies of a local elite with their own conception of leadership. More broadly, through this original document, one can question the role played by councils of elders in Kenyan politics from a grassroots perspective, as well as the role they play in "re-inventing" their political history under the guise of preserving traditions.
En avril 2012, plus d'un an avant les élections générales de 2013 au Kenya, le Nandi Kaburwo Council of Elders a entrepris la rédaction d'un code de conduite politique pour la région de Nandi Hills, le Nandi County Political Code of Conduct (NCPCC). Dans tout le pays, la période préélectorale a vu une implication sans précédent des conseils des anciens, appelés à diffuser des messages de paix et à promouvoir un meilleur « leadership », alors que ces mêmes conseils avaient activement mobilisé les Kenyans à participer aux violences postélectorales de 2007. Imprimé sous la forme d'un livret de 8 pages, le NCPCC s'adresse aux candidats locaux, à leurs supporters et à leurs partis politiques. Les nombreuses régulations listées par le code visent à la « transformation du Comté de Nandi » pour en faire une région prospère, une « île libérée de la folie politique » qui ouvrirait la voie à un « nouvel ordre politique ». Les rédacteurs du code se sont inspirés du modèle des « Ambassadeurs de bonne volonté » pour la paix mis en place en 2012 au Kenya, mais aussi de traditions orales portant sur des leaders emblématiques de l'histoire précoloniale Nandi – tels Kimnyolei et Koitalel Samoei. Ainsi, ce code met en lumière les dynamiques culturelles, sociales, économiques et politiques d'un grand nombre d'acteurs (ONG, anciens ou « sages », candidats aux élections, entrepreneurs) en période électorale. Ce document doit par conséquent être placé au cœur de l'analyse du chercheur en tant que source primaire qui illustre les aspirations et les stratégies d'une élite locale ayant sa propre conception de l'exercice du pouvoir. Plus généralement, ce document original permet de s'interroger sur le rôle joué au Kenya par les conseils des anciens au niveau local, ainsi que sur leur volonté, sous couvert de « préserver la tradition », de « réinventer » leur propre histoire politique.
Em abril de 2012, mais de um ano antes das eleições gerais de 2013 no Quénia, o Council of Elders (Conselho dos Anciãos) Kaburwo de Nandi tomou a seu cargo a tarefa da redação de um código de conduta política para a região de Nandi Hills, o Nandi County Political Code of Conduct (NCPCC). Em todo o país, o período pré-eleitoral caracterizou-se por um envolvimento sem precedente dos conselhos dos anciãos na divulgação de mensagens de paz e na promoção de uma melhor liderança, ao contrário de 2007 quando estes mesmos conselhos tinham desempenhado um papel ativo na mobilização dos quenianos para participarem na violência pós-eleitoral. Impresso como uma brochura de 8 páginas, o NCPCC destinava-se aos candidatos locais, seus apoiantes e partidos políticos. Continha uma série de regras destinadas a contribuir para a "transformação do Condado de Nandi » numa região próspera, uma "ilha livre da loucura política" que abriria caminho a uma "nova ordem política". Os redatores do código inspiraram-se no modelo dos "Embaixadores de boa vontade" a favor da paz instaurado em 2012 no Quénia, mas também nas narrativas orais sobre chefes emblemáticos da história pré-colonial da comunidade Nandi – como Kimnyolei e Koitalel Samoei. Assim, este código articula as dinâmicas culturais, sociais, económicas e políticas de um grande número de intervenientes (ONG, anciãos ou "sábios", candidatos às eleições, empresários) durante o período eleitoral. É, pois, crucial para o investigador apresentar e analisar este documento como uma fonte primária que ilustra as aspirações e as estratégias de uma elite local com a sua própria conceção de liderança. Em termos mais gerais, este documento original permite questionar o papel desempenhado pelos conselhos dos anciãos na política queniana ao nível local, bem como o seu papel na "reinvenção" da sua história política sob o pretexto da preservação das tradições.
Fichier principal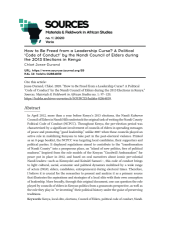 01_05_SOURCES_Chloe_Josse_Durand.pdf (3.34 Mo)
Télécharger le fichier
Origin : Publication funded by an institution