Objectifs et trajectoires bas-carbone dans l'ESR
On a national or international scale, several publications or reports focus on the carbon footprint of higher education and research and the measures implemented to reduce this footprint, but few details are given on the reduction targets themselves. This document therefore seeks to to review the quantified low-carbon targets and trajectories in higher education and research (ESR) organizations in France and around the world. It was created within the framework of a working group (WG) on scenarios of the Labos 1point5 research group (GDR). Its aim is twofold: to enable readers to understand and critically analyze the low-carbon commitments of institutions; and to provide readers with elements and recommendations for defining their organization's low-carbon commitment.
À l'échelle nationale ou internationale, plusieurs publications ou rapports se concentrent sur l'empreinte carbone des établissements- d'enseignement supérieur et de recherche, et les mesures de réduction de cette empreinte mises en place, mais peu de détails sont donnés sur les objectifs de réduction eux-mêmes. Ce document cherche à faire le point sur les objectifs et trajectoires bas-carbone chiffrés dans les établissements de l'enseignement supérieur et la recherche en France et dans le monde. Il a été créé dans le cadre d'un groupe de travail (GT) sur les scénarios du groupement de recherche (GDR) Labos 1point5. Son objectif est double : permettre aux lecteurs de comprendre les engagements bas carbone des établissements et d'en avoir une analyse critique ; et donner des éléments et fournir des recommandations aux lecteurs pour définir l'engagement bas-carbone de leur établissement.
Fichier principal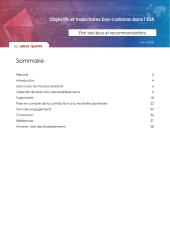 Objectifs_et_trajectoires_de_réduction_dans_lESR.pdf (4.47 Mo)
Télécharger le fichier
Origin : Files produced by the author(s)