A Linguistic Sketch of Tiba (Gà)
Tiba (Gà) is an Adamawa language spoken by a small number of inhabitants of Adamawa State, Nigeria. This sketch, based on a single week of intensive study, is composed of two parts: the first shows cognacy in Southwestern Adamawa and the surrounding Chamba-Daka language (in which Tiba speakers are bilingual) for nouns among those cited by Meek (1931), and lists a number of roots which seem to be unique to Tiba. From these data, it can be concluded that Tiba belongs to the Adamawa branch, has close lexical relations with neigboring languages in the Mumuye-Yendang subgroup, and may have massively imported lexical material from Chamba-Daka. Part II gives tentative conclusions with regard to phonology (including the presence of postnasalized consonants as in Mumuye and a nine-vowel system including two rounded front vowels), tonology (three levels with downstep and grammatical sandhi), pronominals, morphology (noun classification and verb inflection and derivation), and grammatical marking (word order and proposition markers). This part ends with a full list of the lexical items recorded. Bibliographical reference Meek, Charles Kingsley, 1931: Tribal Studies in Northern Nigeria, 2 vols., London: Kegan Paul.
Le tiba (gà) est une langue adamaoua parlée par un petit nombre de locuteurs habitant l'Adamawa State au Nigéria. Cette esquisse, résultat d'une seule semaine d'enquête intensive, est composée de deux parties : la première présente les correspondances lexicales observées avec les langues adamaoua du sud-ouest, ainsi que la langue tchamba-daka parlée tout autour du tiba et par les Tiba eux-mêmes, parmi les nominaux relevés par Meek (1931). Certaines racines qui semblent n'être présentes qu'en tiba sont également citées. Ces données permettent de conclure à l'appartence du tiba à la branche adamaoua et de constater ses rapports étroits avec les langues avoisinantes du sous-groupe mumuye-yendang. Elles font état également d'un possible apport lexical massif du tchamba-daka. La seconde partie présente des conclusions provisoires concernant la phonologie (dont l'existence de consonnes postnasalisées comme en mumuye et d'un système à neuf voyelles dont deux antérieures arrondies), la tonologie (système à trois niveaux avec faille et alterance grammaticale), les pronominaux, la morphologie (classification nominale, flexion et dérivation verbale) et les marqueurs grammaticaux (marqueurs de proposition et ordre des mots). Une liste complète du lexique recueilli achève cette partie. Référence bibliographique Meek, Charles Kingsley, 1931: Tribal Studies in Northern Nigeria, 2 vols., London: Kegan Paul.
Fichier principal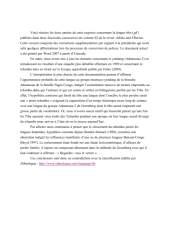 Tiba_revu.pdf (841.88 Ko)
Télécharger le fichier
Origin : Files produced by the author(s)