La mosaïque du langage / The mosaic of language
From a philosophical point of view, living beings can be described as mosaics, i.e. systems where the whole leaves a large degree of autonomy to the properties of the component parts. This structure arises through the action of two basic mechanisms: the juxtaposition of identical identities and the integration of these entities into a more complex whole. Our goal here is to show that human language follows the same rules, operating by the juxtaposition of semantic units which are then integrated into a meaningful utterance. A description is given of the various linguistic processes used to integrate lexical and grammatical morphemes, showing that the philosophical metaphor of the mosaic structure, as used to describe living beings, can be applied to language.
Les êtres vivants peuvent être décrits sur un plan philosophique comme des "mosaïques", c'est-à-dire des systèmes où les propriétés du "tout" laissent une large autonomie aux propriétés des parties. Cette structure est acquise par l'application de deux principes fondamentaux : "juxtaposition" d'entités identiques et "intégration" de ces entités dans un tout plus complexe. Nous montrons ici que le langage obéit aux mêmes règles. Il fonctionne par la juxtaposition d'unités sémantiques ensuite intégrées. On décrit ici les différents procédés qui permettent l'intégration des morphèmes lexicaux et grammaticaux et légitiment l'application au langage de la même métaphore philosophique de la mosaïque que celle qui peut être utilisée pour décrire les êtres vivants.
Fichier principal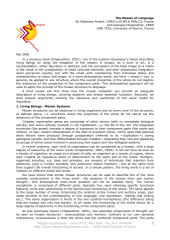 05_ml112006_robert_chapoutier_e.pdf (293.19 Ko)
Télécharger le fichier
Origin : Files produced by the author(s)