The Use of Passive Voice in Spoken Santiaguense Capeverdean: A Corpus‑Based Approach
Usage du passif dans un corpus oral en capverdien santiagais
O uso da voz passiva em um corpus oral de cabo-verdiano santiaguense
Santiaguense Capeverdean has a synthetic passive voice, which is mainly used either to promote an object to the status of subject or in impersonal constructions. This study takes stock of Santiaguense passive based on the scrutiny of an annotated corpus of spoken texts. In section one, we give a short account of the Capeverdean language and the methodology used to collect and process the data. In section two, we provide detailed information about passive morphology in Santiaguense Capeverdean. Then, in section three, we draw on both quantitative and qualitative data from our corpus to check the frequency of Capeverdean passive forms, the way they interact with tense, aspect and polarity, the arguments involved in passive constructions, as well as the valency and lexical peculiarities of the verbs that exhibit passive morphology. The conclusion emphasizes the interest of such a corpus-based approach for a fuller understanding of the passive voice in Capeverdean and suggests means to better and amplify the results achieved in this study for future research.
Le capverdien santiagais connait une voix passive synthétique, utilisée principalement pour promouvoir un objet au rang de sujet ou dans des constructions impersonnelles. Le présent article fait le point sur le passif santiagais à partir de l'examen d'un corpus annoté de textes oraux. Dans une première partie, nous présentons la langue capverdienne et la méthodologie utilisée pour collecter et traiter les données. Puis, dans une deuxième partie, nous fournissons des éléments sur la morphologie du passif verbal en capverdien santiagais. La troisième partie, en se fondant sur des données quantitatives et qualitatives issues du corpus, traite de la fréquence des formes passives du capverdien, de leur interaction avec les marques de temps, d'aspect et de polarité, des actants impliqués dans les constructions passives, ainsi que de la valence et du profil lexical des verbes attestés au passif. L'article conclut sur l'apport des données issues d'un corpus à l'étude du passif en capverdien et sur les possibilités d'améliorer et d'amplifier les résultats obtenus dans le futur.
A variedade de Santiago do crioulo cabo-verdiano tem uma voz passiva sintética, utilizada principalmente para promover um objeto à categoria de sujeito ou para construções impessoais. Este artigo faz um estudo sobre a voz passiva em santiaguense a partir da análise de um corpus de textos orais. Na primeira parte, apresentamos a língua cabo-verdiana e a metodologia utilizada para a recolha e o tratamento dos dados. Na segunda parte, fornecemos elementos sobre a morfologia dos verbos passivos no santiaguense. Na terceira parte, baseando-nos nos dados quantitativos e qualitativos do corpus, tratamos da frequência das formas passivas em caboverdiano, da sua interação com as marcas de tempo, aspecto e polaridade e com os actantes envolvidos nas construções passivas, bem como a valência e o perfil lexical dos verbos atestados na voz passiva. O artigo traz conclusões sobre o contributo de dados de um corpus para o estudo do passivo cabo-verdiano e sobre as possibilidades de melhorar e ampliar os resultados obtidos no futuro.
Fichier principal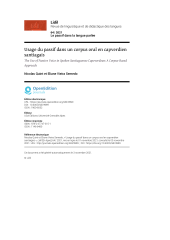 Quint&Vieira-Semedo-2021-LIDIL-usage-passif-corpus-oral-capverdien-santiagais-2021-11-07.pdf (559.6 Ko)
Télécharger le fichier
Origin : Explicit agreement for this submission