Mozambique: vers la reconnaissance de la réalité plurilingue par l'introduction de l'éducation bilingue
Since 2003, a number of African languages have been introduced in the Mozambican education system. This constitutes an innovation and a clear break in relation to past policies, which promoted Portuguese as the language of national unity and saw African 'dialects' as potential carriers of ethnic division.
This new education strategy, which still evokes misgivings within the urban intelligentsia, has proved popular in rual areas among a population which sees for the first time its language and culture afforded official recognition.
Depuis 2003, 15 ou 16 des langues africaines parlées au Mozambique sont utilisées comme langues d'instruction dans le cadre d'un programme expérimental d'éducation bilingue. C'est pour le Mozambique une innovation et une rupture avec une idéologie qui faisait du portugais la seule langue officielle, et qui condamnait l'usage des langues africaines, reléguées au rang de dialectes sans valeur, au titre de la promotion de l'unité nationale. Cette stratégie éducative, qui reste limitée et volontaire, provoque des débats animés parmi l'intelligentsia urbaine a rencontré un soutien indéniable dans les zones rurales, parmi la population qui voit pour la première fois sa langue et sa culture reconnue.
Fichier principal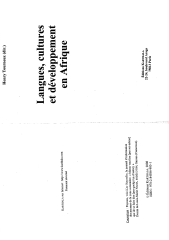 DOC010908-001.pdf (5.29 Mo)
Télécharger le fichier
Origin : Explicit agreement for this submission