Insultes rituelles entre coépouses : entre jeu et conflictualité. Etude du "marcanda" (Zarma, Niger)
n the Zarma area of the Niger, a woman whose husband gets married organizes a ceremony in which she asks married women of the village to come and spend the day at her home. At nightfall, just before the newly-wed couple arrives, all the women form a half-circle : those who were taken as first wives start to insult those who were taken as second wives and vice-versa.
This paper, which takes part in an upcoming research, is the first stage of a complete description of this ceremony. It offers a both ethnolinguistic and pragmatic approach of the first ten insults which mark the opening of the ceremony. It shows that the latter is ritual made of fictive insults which aim to channel the conflicts so that they are socially acceptable. The context of communication and the form of insults indeed create a « symbolic distance [which] serves to insulate this exchange from further consequences » (Labov, 1972 : 352).
Dans la région zarma du Niger, la femme, dont l'époux polygame se marie avec une nouvelle épouse, organise une cérémonie au cours de laquelle elle invite les femmes mariées du village à passer la journée. La nuit venue, avant l'arrivée des mariés, toutes les femmes forment un demi-cercle et celles épousées en premières noces insultent celles épousées en secondes noces et vice-versa.
Participant d'une recherche en cours, cet article constitue une première étape dans la description de la cérémonie dans son ensemble. Il propose une analyse ethnolinguistique et pragmatique du premier volet d'insultes avec lequel débute la cérémonie et montre que cette dernière est un rituel composé d'insultes fictives dont le but est de canaliser les conflits sous une forme socialement acceptable. La situation d'énonciation et la forme des insultes, souvent mémorisées, créent en effet une « distance symbolique [qui] permet d'isoler l'échange des conséquences qu'il pourrait avoir » (Labov, 1978 : 288).
Fichier principal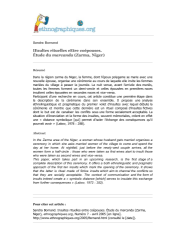 ArBornand.pdf (248.08 Ko)
Télécharger le fichier
Origin : Publisher files allowed on an open archive