Asikhulume! African Language for All, a Powerful Strategy for Spearheading Transformation and Improvement of the South African Education System
Almost twenty years after Bantu Education was repelled and fifteen years into democracy, the South African education system remains bedevilled by huge social inequalities. Language is part of that realm of inequality to the extent that the medium of instruction has become the hallmark of a school's social status. If this situation is allowed to continue, there is little hope that any change in this domain will be willingly accepted by the parents of those for whom such a change would be most beneficial, i.e. African learners whose mother-tongue is at odds with the 'language of learning and teaching', pedagogically sound though it may be. Still, the failure rate among those remains unacceptably high. To overcome this seemingly untractable situation, I argue that mother-tongue education should be made available to all the speakers of any one of the 11 official South African languages, whatever the type of school they attend, and that passing an African indigenous language should become compulsory for all learners writing the senior certificate examination. Such measures could go a long way to trigger transformation in the education scene, and might even lead to a degree of racial and social integration, bringing about the long due transformation of the country.
Près de 20 ans après la fin de la Bantu Education et 15 ans après la transition démocratique, le système éducatif sud-africain reste profondément inégalitaire. La langue d'instruction reste l'un des signes forts de cette inégalité au point d'être devenue emblématique du statut d'une école. Tant que cette situation prédominera, il est peu probable que des changements soient acceptés par les parents des élèves pour qui de tels changements seraient pourtant pédagogiquement bénéfiques. Pourtant le taux d'échec parmi les élèves africains de langue maternelle autre que la langue d'enseignement reste inacceptablement élevé. Pour dépasser ces contradictions, nous soutenons que l'enseignement en langue maternelle devrait être la norme pour tous les élèves , quelle que soit la catégorie d'écoles qu'ils fréquentent, et qu'une langue africaine devrait être obligatoire à l'examen terminal du secondaire (matric ou Senior Certificate). De telles mesures seraient à même de transformer réellement le système éducatif, et pourraient provoquer une certaine intégration sociale et raciale.
Fichier principal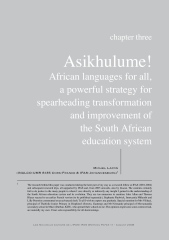 LAFON-asikhulume.pdf (254.17 Ko)
Télécharger le fichier
Origin : Explicit agreement for this submission