The Impact of Language on Educational Access in South Africa
The role of Medium of Instruction (MoI) or Language of Learning and Teaching (LoL&T) in South Africa has not received sufficient attention as a factor denying meaningful access to education in South Africa. Yet the majority of under-performing learners are also children who learn in a language that is not their mother-tongue. This research aims to assess how recent language policies have changed the linguistic practices of schools and how this impacts on 'meaningful' access (understood as learners' access to the curriculum and therefore broad content knowledge). The paper unpicks the different solutions - taken and proposed – to the disjuncture between MoI and meaningful access, whilst taking into account the legacy of past policies. Several proposals have been made to improve educational outcomes within the existing policy regarding medium of instruction (MoI) and language in general. Other proposals, in order to give transformation in education more immediate and concrete content, seek to exploit to its limit, or even alter, the official framework. They claim that such a move is a condition to reverse the overall poor outcome among learners from disadvantaged backgrounds. The MoI issue has sometimes been invoked in the debate on the relevance in societies of the periphery of what some see as essentially a Western educational model, a debate that the African renaissance ideology has contributed to rekindle on the SA scene.
Le choix de la langue d'instruction est une question controversée en Afrique du Sud du fait de l'histoire mouvementée de l'éducation dans ce pays, et de son instrumentalisation. La recherche illustre en quoi l'offre linguistique représente un obstacle pour les élèves, tous africains, dont la langue maternelle est différente des langues d'instruction, particulièrement pour ceux issus de familles défavorisées. Elle documente des tentatives ou des propositions pour améliorer la situation tout en rendant plus effective la transformation du pays et conclue sur des recommendations visant à rendre le terrain plus égal pour tous.
Fichier principal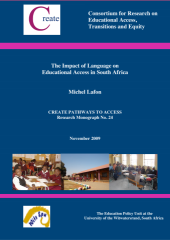 PTA24_2_.pdf (707.57 Ko)
Télécharger le fichier
Origin : Files produced by the author(s)