Un cas de changement phonologique par réanalyse morphonologique en éton.
In the Cameroonian Bantu language Eton the stem of the possessive adjective 'my' ends in /ɔ/ in the forms of class 1 and 3 (-amɔ) and in /a/ elsewhere (-ama). It will be shown that the original /a/ of the class 1/3 forms changed to /ɔ/ due to a mechanism of analogical morphonological reanalysis.
En éton, le thème de l'adjectif possessif de la première personne du singulier se termine en /ɔ/ dans les formes de classe 1 et 3 (-amɔ) et en /a/ ailleurs (-ama). Cet article montre comment le /a/ originel des formes de classe 1 et 3 est devenu /ɔ/ par un mécanisme de réanalyse morphonologique.
Fichier principal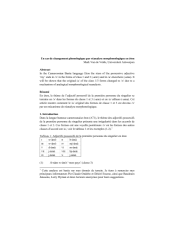 Van_de_Velde_rA_analyse_morphonologique_version_prefinale.pdf (203.82 Ko)
Télécharger le fichier
Origin : Files produced by the author(s)