Bu: aka Zaranda (Chadic, South-Bauchi West): Wordlist and grammatical notes
Bu: also called Zaranda, is a Chadic language spoken in the South of Bauchi State, in Nigeria, belonging to the South-Bauchi West group of Chadic languages (Shimizu 1978). Although generally associated with Bolu, Pelu and Geji, Bu: stands apart from these other lects with which there is no intercomprehension. Most of the Bu: population has migrated from the original location of the Zaranda village (Zaranda Haɓe, longitude 9,57; latitude 10,28) to the present Zaranda (longitude 9,52 ; latitude 10,23) where they have abandoned their language for Hausa and Fulfulde. The few that have retained their language live in Zaranda Haɓe. This work is the result of two working sessions of four days each in January and November 2002.
Le buː aussi appelé zaranda, est un langue tchadique du groupe Sud-Bauchi Occidental, parlée dans le sud de l'état de Bauchi, au Nigéria. Bien que généralement associée au bolu, au pelu et au geji, le buː est différent de ces autres lectes avec lesquels il n'y a aucune intercompréhension. La plus grande part de la population buː a émigré de la localisation originale du village de Zaranda (Zaranda Haɓe, longitude 9,57 ; latitude 10,28) pour fonder l'actuel village de Zaranda (longitude 9,52 ; latitude 10,23) où ils ont abandonné leur langue au profit du haoussa et du peul. La langue est toujours parlée par ceux qui sont restés dans le village de Zaranda Haɓe. Cette brève esquisse grammaticale suivie d'une liste de vocabulaire est le résultat de deux sessions d'enquête de quatre jours chacune, en janvier et novembre 2002.
Fichier principal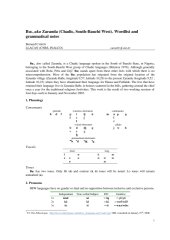 Caron2008_Zaranda.pdf (479.93 Ko)
Télécharger le fichier
Origin : Files produced by the author(s)