Le Futur dans les langues tchadiques du groupe Sud-Bauchi Occidental (SBW), Nigéria
This paper explores the place of Future in the conjugation system of a groupe of 27 Chadic "languages" spoken in the south of Bauchi State, labelled 'South-Bauchi-West' by Shimizu (78). The first part is devoted to the pre-verbal conjugation pronouns (IPAM=PNG.TAM). Then, a model of evolution is proposed to account for the emergence of new paradigms specialised in the expression of Future. The second part studies the expression of Future in Zaar, one of the SBW languages, the only one where data is available for this type of study.
Dans cette présentation, on étudie la place du Futur dans les systèmes de conjugaison des langues d'un groupe d'environ 27 " langues " tchadiques parlées au sud de l'état de Bauchi, et qui ont été regroupées sous l'étiquette " South Bauchi West " par Shimizu (78). Dans une première partie, on présente leurs systèmes de pronoms pré-verbaux (IPAM = PNG.TAM). On dégage ensuite un modèle d'évolution diachronique présidant à l'émergence de nouveaux paradigmes, dans lequel on met en évidence la place du Futur. Dans une deuxième partie, on aborde l'étude de l'expression du Futur en Zaar, l'une des langues SBW, seule langue pour laquelle la documentation permet de mener une telle étude.
Fichier principal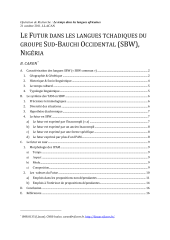 Caron_2011-10-21_Futur_SBW.pdf (1.86 Mo)
Télécharger le fichier
Origin : Files produced by the author(s)