Comment se sortir d'un mauvais pas: Variation sur la 2ème personne dans les langues tchadiques Sud-Bauchi
The Proto-West-Chadic pronominal system reconstructed by Newman & Schuh shows a singular/plural opposition relying mainly on a vocalic contrast inside a CV form. As the vocalic contrast has been replaced by /ə/ in South-Bauchi West (SBW) languages, another exponent had to be found to maintain the sg/pl opposition. After a quick presentation of the SBW group of languages, the paper analyses the various solutions developed by 12 out of the 27 SBW languages in order to keep a contrast between the 2sg and 2pl pre-verbal pronouns of the Aorist, as well as the consequences entailed for verbal plurality in SBW.
Le système pronominal proto-tchadique occidental reconstitué par Newman & Schuh montre une opposition singulier/pluriel fondée essentiellement sur le contraste vocalique dans une forme CV. La variation du timbre ayant été abandonnée au profit de la voyelle centrale /ə/, les langues Sud-Bauchi Occidentales (SBW) ont dû trouver une solution pour rétablir l'opposition singulier/pluriel. Après une rapide présentation de la famille SBW l'exposé présentera , à partir d'un exemple fourni par la 2ème personne de l'Aoriste, les différentes solutions choisies par 12 des 27 langues que comporte ce groupe, ainsi que les conséquences que cela implique pour la pluralité verbale en SBW.
Fichier principal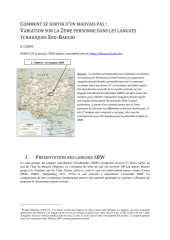 Caron2011_2eme_personne_SBW.pdf (550.11 Ko)
Télécharger le fichier
Origin : Files produced by the author(s)