Modalité et évidentialité en Zaar, langue tchadique du Nigéria
Zaar is a Chadic language spoken by over 100,000 speakers in Nigeria, in the South of Bauchi State. In Northern Nigeria, where Zaar is spoken, Hausa is the dominant regional language, spoken by over 60 million people, and widely used in education, administration, and the media. As a result, all adult Zaar speakers are bilingual Zaar-Hausa. This paper uses the enunciative theoretical frame to present a corpus-based analysis of the relationship between epistemic modality, evidentiality (represented in Zaar by a quotative) and a set of three sentence-final assertive particles. Epistemic modality is barely represented in the corpus, through the auxiliary ɗjaː, 'can, may' borrowed from Hausa and /or the Hausa particle séj, 'it is necessary that...'. The quotative particle tu is widely used and can be reinforced by or substituted with the Hausa particle wéj. This quotative particle indicates that the predication is asserted by a speaker different from the enunciator, defined as the ultimate source licensing the referential values of the utterance. The auxiliary ɗjaː and the particle séj evaluate the probability for the event expressed by the predication to happen. The Zaar quotative is neutral as to the epistemic value of the predication. The relative inexistence of epistemic modality and its expression by Hausa loanwords can be accounted for by the massive presence of sentence final assertive particles which limit the need for epistemic judgments. The particle eː appears with WH-Questions; aː is used for Yes/No-Questions; oː appears to express re-assertion of an utterance that has already been licensed by another speaker, producing such values as approbation, denegation, irony, controversy, etc. As a conclusion, this paper characterizes Zaar as a language where epistemic modality is superseded by dialogic activity.
Le zaar est une langue tchadiques parlée par plus de 100 000 locuteurs au Nigeria, au sud de l'état de Bauchi. Le haoussa étant la langue régionale dominante, parlée par plus de 60 millions de personnes et largement utilisé dans l'éducation, l'administration et les médias au nord du Nigéria, tous les Zaar adultes sont bilingues zaar-haoussa. Ce document utilise le cadre théorique de la linguistique énonciative pour, à partir d'une étude de corpus, présenter une analyse de la relation entre la modalité épistémique, l'évidentialité (représenté en zaar par un quotatif) et un ensemble de trois particules assertives de fin d'énoncé. La modalité épistémique est à peine représentée dans le corpus, par le biais de l'auxiliaire ɗjaː 'pouvoir' et/ou la particule haoussa séj, 'il faut que...', empruntés au haoussa. La particule quotative tu est largement utilisée, et peut être renforcée ou remplacée par la particule haoussa wéj. Cette particule quotative indique que la prédication est affirmée par un locuteur différent de l'énonciateur, défini comme la source ultime de validation des valeurs référentielles de l'énoncé. L'auxiliaire ɗjaː et la particule séj permettent d'évaluer la probabilité que l'événement exprimé par la prédication se produise. Le quotatif zaar est neutre quant à la valeur épistémique de la prédication. La faible représentation de la modalité épistémique et son expression par des emprunts au hausa peuvent être expliqués par la présence massive de particules assertives finales qui limitent le recours aux jugements épistémiques. La particule eː apparaît avec les questions partielles ; aː est utilisé pour les questions totales; oː exprime la ré-assertion d'un énoncé qui a déjà été pris en charge par un autre locuteur, produisant des valeurs telles que l'approbation, la dénégation, l'ironie, la polémique, etc. En conclusion, cette présentation caractérise le zaar comme une langue où la modalité épistémique est dominée par l'activité dialogique.
Fichier principal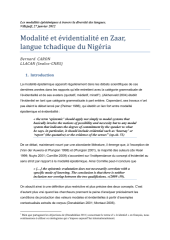 CARON-Modalite_et_evidentialite_en_Zaar.pdf (641.49 Ko)
Télécharger le fichier
Origin : Files produced by the author(s)