Предглагольные наречия в бамана
Bamana language has a lexical class of pre-verbial adverbs, different from post-verbial adverbs. Although integrated with the verb at the suprasegmental level, pre-verbial adverbs remain autonomous words, which can be demonstrated through syntactic criteria. On the other hand, the same syntactic slot can be occupied by nouns, in which case these nouns express the meaning of the manner of action. The placement of nouns in this position can be regarded as a productive means of conversion of the nouns into pre-verbial adverbs.
В языке бамана выделяется особая часть речи - предглагольные наречия, отличная от наречий постглагольных. Несмотря на интеграцию с глагольной словоформой на супрасегментном уровне, такие наречия оказываются всё же автономными словоформами по синтаксическим критериям. Кроме того, в такой же предглагольной позиции могут помещаться и существительные, выражая значение образа действия. В статье демонстрируется, что перед нами - продуктивный процесс конверсии существительных в предглагольные наречия.
Fichier principal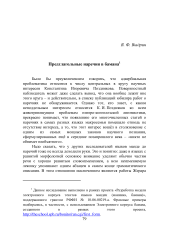 2012predglagol_narechia_bamana.pdf (726.26 Ko)
Télécharger le fichier
Origin : Files produced by the author(s)