Предварительные наброски к диалектологии какабе
Kakabe, an understudied language in Guinea (Mokole < Western Mande < Mande < Niger-Congo), is spoken by several ethnic groups, mainly of inferior social status and bilingual in Pular. Four dialects of Kakabe can be singled out: Northwestern (the Kankalabe area), Central (villages to the east and south of Timbo), Kuru-Maninka (or Western) and Wurekaba Maninka (or Southern). Two former dialects are close to each other linguistically, their speakers refer to themselves as "Kakabe", these dialects can be regarded as "core Kakabe"; the speakers of Kuru-Maninka and Wurekaba Maninka do not accept to be called "Kakabe", and their varieties have much less loans from Pular. A lexicostatistic study based on Swadesh 100-wordlist has been carried out. It confirmed a preliminary hypothesis of a particular closeness between the "core dialects" and showed that two other dialects are further remote from them, but not as much as the Mogofin (Mixifore) language spoken to the south of Boke (extreme NW part of the Guinean Republic). Therefore, from linguistic viewpoint, Wurekaba Maninka and Kuru-Maninka varieties can be regarded as dialects of Kakabe, notwithstanding different identities of their speakers.
Какабе - малоизученный язык Гвинеи (моколе < зап. манде < манде < нигер-конго) нескольких небольших этнических групп на Фута-Джаллоне, в большинстве своём двуязычных на пулар. Могут быть выделены четыре диалекта какабе: северозападный (зона Канкалабе), центральный (деревни к востоку и югу от Тимбо), куру-манинка (западный), вурекаба-манинка (южный). Два первых близки друг к другу, их носители называют себя "какабе"; они могут рассматриваться как "ядерный какабе". Носители куру-манинка и вурекаба-манинка отвергают этноним "какабе", их диалекты гораздо менее подвержены заимствованиям из пулар. Бало проведено лексикостатистическое исследование на основе 100-словного списка Сводеша. Оно подтвердило предварительную гипотезу об особой близости между собой диалектов "ядерного какабе" и дистанцированности от них двух других диалектов - которые при этом оказываются всё же ближе к "ядерному какабе", чем язык могофин (микифоре), на котором говорят к югу от г. Боке (крайний северо-запад Гвинейской Республики). Таким образом, вурекаба-манинка и куру-манинка могут всё же рассматриваться как диалекты какабе, несмотря на особенности самоидентификации их носителей.
Fichier principal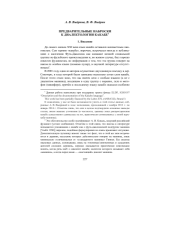 2014dialectes_kakabe.pdf (506.56 Ko)
Télécharger le fichier
Origin : Publisher files allowed on an open archive