Le ton et l'accent en bambara : l'absence de corrélation comme un défi théorique.
Тон и акцент в бамана: отсутствие корреляции как теоретический вызов
Basic information about the tonal system of Bambara is provided: two level tones; classification of syllables into tonally dominant (to which their lexical tone is ascribed) and recessive (without lexical tone). Three types of disyllabic metric feet are singled out: neutral (both syllables have equal status), trochaic (the first syllable has a long vowel, and the second syllable has a short vowel), and iambic (the vowel of the first vowel is usually reduced, and the second one is full-fledged). The second syllable of a iambic foot can be regarded as accentuated, and the first one as non-accentuated, and this opposition cannot be interpreted in the terms of the length contrast. The foot accent displays no correlation with the subdivision of syllables into tonally dominant and recessive.
Излагаются базовые сведения о тональной системе языка бамана: два уровневых тона; деление слогов на тонально-доминантные (которым приписывается лексический тон) и рецессивные (не имеющие своего лексического тона). Выделяются три типа двусложных стоп: нейтральные (оба слога равноправны), хореические (первый слог имеет долгий гласный, второй - краткий), ямбические (гласный первого слога обычно редуцируется, второго - реализуется без редукции). В ямбических стопах можно говорить об ударности второго слога и безударности первого, при этом такое противопоставление нельзя свести к долготному контрасту. Такое стопное ударение не проявляет никакой корреляции с делением слогов на тонально-доминантные и рецессивные.
Fichier principal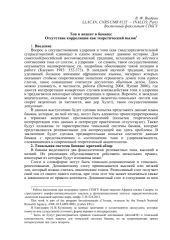 2014ton_accent_bambara.pdf (231.63 Ko)
Télécharger le fichier
Origin : Files produced by the author(s)