Imaginaire et croyances : le cas des Gbaya d'Afrique centrale
This paper deals with the Gbaya, an oral society traditionally devoid of hierarchy. I will start by defining all the concepts used. Then I will discuss, based on the analysis of the Gbaya terms, the place of oral tradition and religious practices in this society. First I will focus on the Gbaya Ɓodoe of C.A.R., then on the way the early writings described it and finally on the Gbaya Yaayuwee of Cameroon. Without one creator god, the case of Gbaya distinguishes two separate worlds: the world of the ancestors and the world of the gods in the tales, which a single term – sɔ̰̀ – refers to.
Cet article est consacré aux Gbaya, une société orale traditionnellement sans hiérarchie. Après avoir défini tous les concepts utilisés, je présente ensuite, en partant des termes gbaya, la place de la tradition orale et des pratiques religieuses dans cette société, tout d'abord chez les Gbaya Ɓodoe de RCA, puis dans la description qu'en donnent les premiers écrits connus et enfin chez les Gbaya Yaayuwee du Cameroun. En l'absence d'un dieu créateur unique, le cas du gbaya illustre une situation qui distingue deux mondes bien séparés : celui des ancêtres et celui des divinités des contes, qu'un seul et unique terme-désigne.
Fichier principal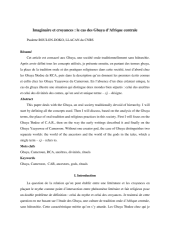 PRD_article_HAL2.pdf (367.91 Ko)
Télécharger le fichier
PRD_Position.pptx (167.56 Ko)
Télécharger le fichier
Origin : Files produced by the author(s)