Why eight causative suffixes in Wolof?
Pourquoi huit causatifs en wolof ?
Like other Atlantic languages, Wolof has a large inventory of verbal derivation suffixes, but is exceptionally well endowed for causative derivation with no less than eight different causative suffixes. This article analyzes the different values of these suffixes and reveals firstly a double gradient of distinctions concerning the degrees of involvement of the causer and the causee. Among these causative suffixes, two show a typologically rare specialization, one being specialized in sociative (assistive) causation, the other in the expression of indirect causation with obligatory omission of the causee. Three causative suffixes, rarely analyzed, combine a direct causation value with indications of the modalities of realization of the process, namely, incomplete, completing and corrective causation. Several of these causative suffixes are clearly complex but cannot be described as multiple suffixation in synchrony. Various reconstruction hypotheses are nonetheless presented attesting to multiple derivation in the Atlantic family. Finally, this derivational abundance is compared with the general morphosyntactic strategies of Wolof.
Comme les autres langues atlantiques, le wolof dispose d'un large inventaire de suffixes de dérivation verbale mais présente un raffinement exceptionnel pour la dérivation causative avec pas moins de huit suffixes causatifs différents. Cet article analyse l'ensemble des valeurs de ces suffixes et révèle d'abord un double gradient de distinctions concernant les degrés d'implication respectifs du causateur et du causataire. Parmi ces causatifs, deux présentent une spécialisation assez rare typologiquement, l'un pour la causation sociative assistive, l'autre pour l'expression d'une causation indirecte avec un effacement obligatoire du causataire. Trois causatifs, rarement analysés, combinent à une valeur de causation directe, des indications sur les modalités de réalisation du procès à savoir, une causation incomplète, parachevante ou corrective. Plusieurs de ces suffixes causatifs sont clairement complexes, mais ne peuvent être décrits comme une suffixation multiple en synchronie. Diverses hypothèses de reconstruction sont néanmoins présentées attestant de figement de dérivations multiples que l'on peut retrouver dans la famille atlantique. Enfin, ce foisonnement dérivationnel est mis en parallèle avec les stratégies morphosyntaxiques générales du wolof.
Fichier principal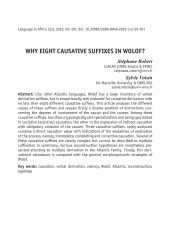 8causatives_LiA_3_2_3_RobertVoisin.pdf (815.93 Ko)
Télécharger le fichier
Origin : Publisher files allowed on an open archive