The complex sentence in Santiago Cape Verdean : a study of clause integration
Une étude de l'intégration syntaxique des propositions dans la phrase complexe en capverdien (variété de Santiago)
Frase complexa em cabo-verdiano (variedade de Santiago) : um estudo da integração entre cláusulas)
The present research aims at analysing the various degrees of clause integration in complex sentences as attested in traditional Cape Verdean oral narratives, and at elucidating the linguistic factors that contribute to a lower or higher clause integration. The data analysed within the scope of this study come from the Traditional Histories of Cape Verde corpus administered by the research unit LLACAN (Langage, Langues et Cultures d'Afrique - UMR8135). The selected sample comprises twelve traditional oral narratives, collected between the years 2004 to 2015, in twelve different locations in the interior of the island of Santiago. These data were treated by means of the software ELAN, specially designed to process linguistic material. Based on a qualitative and quantitative analysis of the data, this research endeavours to answer the following key-question: How can we draw a continuum for clause integration in Santiago Cape Verdean? The data analysis is based on cross-linguistic typological studies such as Cristofaro (2003) and Andrews (2007) for subordination, Haspelmath (2007) and Mauri (1981) for coordination and Evans (2007) and Cristofaro (2016) for insubordination. For the analysis of clause integration, I have based myself on the parameters proposed by Lehmann (1988). The results show that, in Santiago Cape Verdean, the continuum of clause integration is established as follows: complement > relative > adverbial > insubordinate > coordinate.
Cette étude vise à analyser le degré d'intégration syntaxique des différentes propositions constituant les phrases complexes en capverdien santiagais (République du Cap-Vert), en prenant en compte les divers facteurs linguistiques qui contribuent à cette intégration. Les données analysées dans ce travail font partie du corpus Histoires traditionnelles du Cap-Vert du laboratoire LLACAN (Langage, Langues et Cultures d'Afrique - UMR8135). L'échantillon sélectionnée pour cette étude est constitué de douze récits oraux traditionnels, collectés entre les années 2004 et 2015 dans douze localités distinctes de l'intérieur de l'île de Santiago et il a été traité au moyen du logiciel ELAN. A partir de l'analyse qualitative et quantitative des données, ce travail se propose d'essayer de comprendre comment s'établit le continuum d'intégration syntaxique entre les propositions en santiagais. L'analyse des données se fonde sur les études typologiques translinguistiques de Cristofaro (2003) et d'Andrews (2007) pour la subordination, d'Haspelmath (2007) et de Mauri (1981) pour la coordination et d'Evans (2007) et de Cristofaro (2016) pour l'insubordination. Enfin, pour l'analyse du degré d'intégration des propositions, j'ai retenu les paramètres proposés par Lehmann (1988). Les résultats montrent que, en capverdien santiagais, le continuum d'intégration s'établit comme suit : complétive > relative > adverbiale > insubordonnée > coordonnée.
Esta pesquisa teve por objetivo analisar a integração entre cláusulas na frase complexa em narrativas tradicionais orais, observando fatores linguísticos que operam para menor ou maior integração. Os dados para análise desta pesquisa fazem parte do corpus Histórias Tradicionais de Cabo Verde do laboratório LLACAN (Langage, Langues et Cultures d'Afrique - UMR8135). A amostra selecionada para este estudo foi constituída por doze narrativas tradicionais orais, coletadas entre os anos 2004 a 2015, em doze localidades distintas do interior da ilha de Santiago e foi tratada no software ELAN para análise de dados. A partir da análise qualitativa e quantitativa dos dados, esta pesquisa propôs-se a responder à questão basilar: Como se estabelece o continuum de integração entre as cláusulas no santiaguense? A análise dos dados baseou-se nos estudos tipológicos translinguísticos de Cristofaro (2003) e Andrews (2007) para a subordinação, Haspelmath (2007) e Mauri (1981) para a coordenação e Evans (2007) e Cristofaro (2016) para a insubordinação. Por fim, para a análise da integração entre as cláusulas, baseamo-nos nos parâmetros propostos por Lehmann (1988). Os resultados mostram que, no santiaguense, o continuum de integração se estabelece da seguinte forma: completivas > relativas > adverbiais > insubordinadas > coordenadas.
Fichier principal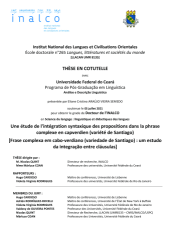 ARAUJO_Eliane_vavd.pdf (71.93 Mo)
Télécharger le fichier
Origin : Version validated by the jury (STAR)