Lapidary craftsmanship in the Antilles during the Ceramic Period, a renewed and updated analysis
La artesanía lapidaria en las Antillas durante el periodo cerámico, actualización y resurgimiento
Artisanat lapidaire dans les Antilles durant la période Céramique, mise à jour et renouveau
Very diverse lapidary artwork, both in style and raw materials, is one of the recognized specialty of Amerindian crafting during the Saladoid period in the Antilles area, and is supposed to be less numerous and diverse in the following periods. These gemstones are very often referred to as exotic since they are not coming from the island where they have been discovered by archaeological excavations. Our recent work updates the previous data by studying newly excavated sites as well as refining outdated mineral characterizations. Exhaustive results for the French islands, combined to a literature-based database, allowed for the creation of an improved and renewed vision of the distribution of these numerous artifacts. Such an important database finally allow us to study the patterns in the lapidary production of the Ceramic Age in the Caribbean, both in terms of chronology and typology. This study lays the foundation for further work in the region, and present online tools developed with the aim of creating new collaborations on this subject.
Las obras de arte lapidarias muy diversas, tanto en estilo como en materias primas, son una de las especialidades reconocidas de la artesanía amerindia durante el periodo saladoide en la zona de las Antillas, y se supone que son menos numerosas y diversas en los periodos siguientes. Estas piedras preciosas se califican muy a menudo de "exóticas", ya que no proceden de la isla donde han sido descubiertas por las excavaciones arqueológicas. Nuestro reciente trabajo actualiza los datos anteriores mediante el estudio de los nuevos yacimientos excavados, así como el perfeccionamiento de las caracterizaciones minerales obsoletas. Los resultados exhaustivos para las islas francesas, combinados con una base de datos basada en la literatura, han permitido crear una visión mejorada y renovada de la distribución de estos numerosos artefactos. Esta importante base de datos nos permite finalmente estudiar los patrones de la producción lapidaria de la Edad de la Cerámica en el Caribe, tanto en términos de cronología como de tipología. Este estudio sienta las bases para futuros trabajos en la región, y presenta herramientas en línea desarrolladas con el objetivo de crear nuevas colaboraciones en este tema.
Les parures en pierre, très diverses, tant par le style que par les matières premières, constituent l'une des spécialités reconnues de l'artisanat amérindien de la période saladoïde dans la zone des Antilles, et sont réputées moins nombreuses et diversifiées aux périodes suivantes. Ces pierres précieuses sont très souvent qualifiées d' "exotiques" car elles ne proviennent généralement pas de l'île où elles ont été découvertes. Notre travail récent met à jour les données précédentes en étudiant les sites nouvellement fouillés ainsi qu'en affinant les caractérisations minérales anciennes. Des résultats exhaustifs pour les îles françaises, combinés à une base de données bibliographique, ont permis de créer une vision enrichie et renouvelée de la distribution de ces nombreux artefacts. Cette importante base de données nous permet enfin d'étudier les schémas de la production lapidaire de l'âge Céramique dans la Caraïbe, tant en termes de chronologie que de typologie. Cette étude jette les bases de travaux à venir dans la région, et présente des outils en ligne, développés dans le but de créer de nouvelles collaborations sur ce sujet.
Fichier principal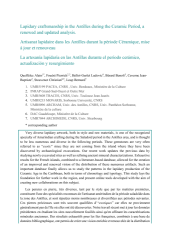 Queffelec-etal_2022-IACA2019 Proceedings-preprint_V2.pdf (2.22 Mo)
Télécharger le fichier
Origin : Files produced by the author(s)
licence : CC BY - Attribution