Tracing Palaeolithic Populations across the Horn of Arabia: northern Oman
Arabia holds great geographical significance in Palaeolithic studies as the nexus between the African and Asian continents. While researchers have identified various contextual areas from the Middle to Late Pleistocene period in the peninsula's southern, central, and northern zones, some regions such as northern Oman, still need to be explored. This paper is a synthesis of the French Archaeological Mission to Central Oman's Palaeolithic expeditions (FAMCO). It fills a major geographic gap in terms of mapping the Palaeolithic settlements on the southern piedmont of the Hajar Mountains. Our preliminary surveys around the Adam and Bisya towns in Ad-Dakhiliyah Governorate and test excavation at a stratified Late Palaeolithic site—the first of its kind near the city of Al-Ma'mur—demonstrate a range of lithic industries spanning the Lower Palaeolithic to the Neolithic. By exploring this terra incognita, the provided synthesis will broaden our understanding of the distribution of Palaeolithic populations and different lithic production strategies in the Horn of Arabia.
La péninsule arabique revêt une grande importance géographique dans les études paléolithiques en tant que lien entre les continents africain et asiatique. Bien que les chercheurs aient identifié divers sites du Pléistocène moyen à supérieur dans les zones au sud, au centre et au nord de la péninsule, certaines régions comme le nord de l'Oman restent encore à explorer. Cet article est une synthèse des campagnes menées par la Mission archéologique française en Oman central (FAMCO) sur le Paléolithique. Elle comble une importante lacune géographique en termes de cartographie des occupations paléolithiques dans les piémonts sud des monts Hajar. Nos enquêtes préliminaires autour des villes d'Adam et de Bisya dans le gouvernorat d'Ad-Dakhiliyah et le sondage effectué sur un site paléolithique récent stratifié – le premier du genre près de la ville d'Al-Ma'mur – démontrent une gamme d'industries lithiques allant du Paléolithique inférieur au Néolithique. En explorant cette terra incognita, cette synthèse élargit notre compréhension de la distribution des populations paléolithiques et celle des différentes industries lithiques dans la Corne de l'Arabie.
Fichier principal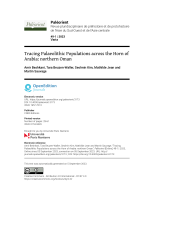 paleorient-3173.pdf (2.08 Mo)
Télécharger le fichier
Origin : Publisher files allowed on an open archive