Bone aerophones from Eynan-Mallaha (Israel) indicate imitation of raptor calls by the last hunter-gatherers in the Levant
Direct evidence for Palaeolithic sound-making instruments is relatively rare, with only a few examples recorded from Upper Palaeolithic contexts, particularly in European cultures. However, theoretical considerations suggest that such artefacts have existed elsewhere in the world. Nevertheless, evidence for sound production is tenuous in the prehistoric archaeological record of the Levant, the study of music and its evolution being sparsely explored. Here we report new evidence for Palaeolithic sound-making instruments from the Levant with the discovery of seven aerophones made of perforated bird bones in the Final Natufian site of Eynan-Mallaha, Northern Israel. Through technological, use-wear, taphonomic, experimental and acoustical analyses, we demonstrate that these objects were intentionally manufactured more than 12,000 years ago to produce a range of sounds similar to raptor calls and whose purposes could be at the crossroads of communication, attracting hunting prey and music-making. Although similar aerophones are documented in later archaeological cultures, such artificial bird sounds were yet to be reported from Palaeolithic context. Therefore, the discovery from Eynan-Mallaha contributes new evidence for a distinctive sound-making instrument in the Palaeolithic. Through a combined multidisciplinary approach, our study provides important new data regarding the antiquity and development of the variety of sound-making instruments in the Palaeolithic at large and particularly at the dawn of the Neolithic in the Levant.
Les preuves directes de l'existence d'instruments sonores au Paléolithique sont relativement rares, seuls quelques exemples ayant été découverts dans des contextes du Paléolithique supérieur, en particulier dans les cultures européennes. Cependant, des considérations théoriques suggèrent que de tels artefacts ont existé ailleurs dans le monde. Néanmoins, les preuves de la production de sons sont ténues dans les archives archéologiques préhistoriques du Levant, l'étude de la musique et de son évolution étant peu explorée. Nous présentons ici de nouvelles preuves de l'existence d'instruments sonores paléolithiques au Levant, avec la découverte de sept aérophones fabriqués à partir d'os d'oiseaux perforés sur le site du Natoufien Final de Eynan-Mallaha, dans le nord d'Israël. Grâce à des analyses technologiques, tracéologiques, taphonomiques, expérimentales et acoustiques, nous démontrons que ces objets ont été fabriqués intentionnellement il y a plus de 12 000 ans pour produire une gamme de sons similaires aux chants de rapaces (l'Épervier d'Europe et le Faucon crécerelle) et dont les objectifs pourraient être à la croisée de la communication, de l'attraction des proies et de la musique. Bien que des aérophones similaires soient attestés dans des cultures archéologiques plus récentes, de tels sons artificiels d'oiseaux n'avaient pas encore été rapportés dans le contexte paléolithique. La découverte d'Eynan-Mallaha apporte donc de nouvelles preuves de l'existence d'un instrument sonore distinctif au Paléolithique. Grâce à une approche multidisciplinaire combinée, notre étude fournit de nouvelles données importantes concernant l'ancienneté et le développement de la variété des instruments sonores au Paléolithique en général et particulièrement à l'aube du Néolithique au Levant.
Fichier principal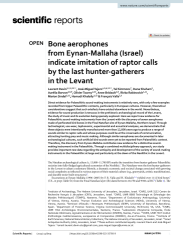 DAVIN etal 2023 Bone_aerophones_from_Eynan-Mallaha_Israel.pdf (4.66 Mo)
Télécharger le fichier
Origin : Publisher files allowed on an open archive