Sons et lumières du Haut Vicdessos. La nuit au prisme d'une écologie du son et de la lumière artificielle
PYRENEES (Pyrenean nighttime environment social-ecological systems monitoring program) is an exploratory research project that aims [1] to model the spatiotemporal relationships between artificial light at night (ALAN) and anthropophony, [2] to analyse the interactions between these two factors of environmental degradation, and [3] to test the relevance of the use of biophonic indexes as proxies of the effects of ALAN on biodiversity and the ecological quality of nighttime environment. To meet these objectives, a monitoring of the nighttime environment was deployed in July 2018 in the Haut Vicdessos OHM (Ariège, France). Different parameters were monitored on 33 observation points selected by stratified sampling: biophony, anthropophony, artificial brightness at different scales. Spatial statistical processing will allow an integrated analysis of the effects of light and sound pollution on the environment. This cross-fertilization of tools and methods contributes to the interdisciplinary rapprochement between territorial sciences, life and conservation sciences and modelling sciences. A necessary reconciliation for an integrated social-ecological system approach of the nighttime environment.
PYRENEES (Pyrenean nighttime environment social-ecological systems monitoring program) est un projet de recherche exploratoire qui se donnait pour objectifs [1] de modéliser les relations spatiotemporelles entre la lumière artificielle nocturne et l'anthropophonie, [2] d'analyser les interactions entre ces deux facteurs de dégradation de l'environnement, et [3] de tester la pertinence de l'utilisation d'indices biophoniques comme proxys des effets de la lumière artificielle nocturne sur la biodiversité et la qualité écologique des milieux nocturnes. Pour ce faire, un monitoring de l'environnement nocturne a été déployé en juillet 2018 au sein de l'OHM Haut Vicdessos (Ariège, France). Différents paramètres ont été suivis sur 33 points d'observation sélectionnés par échantillonnage stratifié : biophonie, anthropophonie, luminosité artificielle à différentes échelles. Un traitement statistique spatialisé permettra une analyse intégrée des effets des pollutions lumineuse et sonore sur l'environnement. Ce croisement d'outils et méthodes contribue au rapprochement interdisciplinaire entre sciences du territoire, sciences du vivant et de la conservation et sciences de la modélisation, rapprochement indispensable pour une étude socio-écosystémique de l'environnement nocturne.
Fichier principal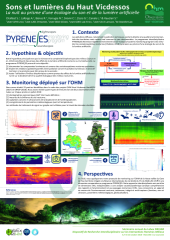 Poster_seminaire_DRIIHM_Challeat_et_al_2018_VFinale_sans_BP-compressed.pdf (5.44 Mo)
Télécharger le fichier
Origin : Files produced by the author(s)