Lutter contre la pollution lumineuse
The degradation of darkness through the use of artificial light at night (ALAN) in and around human infrastructures is termed light pollution. This pollution is intrinsically related to urbanization and spills out from urban areas to affect rural areas and protected areas. The fight against light pollution is being organized in several countries where local communities are experimenting with environmental policies to protect darkness. The challenge bears on both the preservation of biodiversity and the energy transition. In France, a few pioneering rural areas are experimenting with mechanisms that include this dual implication. Two of them provide the case study for this article. We show how these areas turn darkness into a specific resource. We identify three specification processes. The first, obeying an anthropocentric utilitarian rationale, is part of the "economicization" of the environment in the line of shallow ecology. The second, following a rationale of ecocentric conservation, is part of the radical greening of the economy, in line with deep ecology. The third follows an integrated social-ecological system rationale enshrining the interdependence between development and planning and the preservation of biodiversity and energy savings. Specification controversies beset local areas. These areas become incubation rooms, that is, spaces for resolving these controversies that are reflected in a transition operator enabling the local area to take a fresh trajectory in terms of development and planning.
La dégradation de l'obscurité sous l'effet des usages de lumière artificielle nocturne dans et aux abords des infrastructures humaines est appelée pollution lumineuse. Liée à l'urbanisation, cette pollution déborde les espaces urbains pour affecter les espaces ruraux et les aires protégées. La lutte contre la pollution lumineuse s'organise dans plusieurs pays, dans lesquels des territoires expérimentent des politiques environnementales de protection de l'obscurité. L'enjeu porte à la fois sur la préservation de la biodiversité et la transition énergétiques. En France, quelques territoires ruraux pionniers expérimentent des dispositifs intégrant ce double enjeu. Deux d'entre eux constituent les cas d'étude de cet article. Nous montrons comment ces territoires font de l'obscurité une ressource spécifique. Nous identifions trois processus de spécification. Le premier, suivant une logique utilitariste anthropocentrée, relève de l'économicisation de l'environnement dans la lignée de la shallow ecology. Le deuxième, suivant une logique de conservation écocentrée, relève de l'écologisation radicale de l'économie, dans la lignée de la deep ecology. Le troisième suit une logique socioécosystémique intégrée consacrant l'interdépendance entre le développement, l'aménagement, la préservation de la biodiversité et la sobriété énergétique. Les controverses de spécification travaillent les territoires. Ceux-ci deviennent des territoires d'incubation, c'est-à-dire des espaces de résolution de ces controverses qui se traduisent dans un opérateur de transition permettant au territoire d'emprunter une nouvelle trajectoire de développement et d'aménagement.
Fichier principal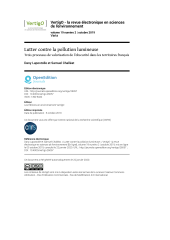 Lapostolle_2019.pdf (3.19 Mo)
Télécharger le fichier
Origin : Files produced by the author(s)