"And what do you do with five hundred million stars?"
"Et que fais-tu de cinq cents millions d'étoiles ?"
If "that which is rare is precious", then that which becomes scarce gains value. More precisely—and because nothing is created ex nihilo—the value of that thing, previously little-known or neglected, ends up being revealed by the threat of its erosion. Under the effect of light pollution, darkness and the starry sky are among those objects that have become rare, and we are assessing what they provide now that they seem to be eluding us. In reaction to this, territories are organising the protection of these "objects of nature" that have become precious, thus activating their multiple values. Feet on the ground and head in the stars, we look at values that are emerging from the starry sky industry and from the multiple services and activities it valorises, not only monetarily. Being in tension with other human needs and activities, access to darkness and therefore to the starry sky is more and more unequally distributed in space. Nevertheless, for territories previously isolated from the gains of modernity, this spatial disparity is turning into a new card to play.
Si « ce qui est rare est cher », alors ce qui se raréfie prend de la valeur. Plus exactement, et parce qu'il n'est pas de création ex nihilo, la valeur de cette chose, jusqu'alors méconnue ou négligée, se trouve révélée par la menace de son érosion. Sous l'effet de la pollution lumineuse, l'obscurité et le ciel étoilé́ sont de ces objets devenus rares et dont nous mesurons les apports maintenant qu'ils semblent nous échapper. En réaction, des territoires organisent la protection de ces « objets de nature » devenus chers, activant ainsi leurs multiples valeurs. Les pieds sur terre et la tête dans les étoiles, nous remontons le fil des valeurs qui émergent de la filière ciel étoilé et des multiples services et activités qu'elle valorise, et pas que monétairement. En tension avec d'autres activités et besoins humains, l'accessibilité à l'obscurité et donc au ciel étoilé est de plus en plus inégalement répartie dans l'espace. Pour autant, cette disparité spatiale se mue en une nouvelle carte à jouer pour des territoires jusqu'alors isolés des gains de la modernité.
Fichier principal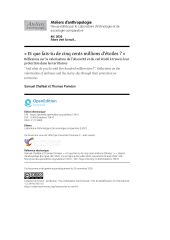 ateliers-13410.pdf (487.27 Ko)
Télécharger le fichier
Origin : Publisher files allowed on an open archive