Retrospective epidemiological study on immersion pulmonary edemas occurring in diving school from 2016 to 2019
ETUDE EPIDEMIOLOGIQUE RETROSPECTIVE SUR LES OEDEMES PULOMAIRES D'IMMERSION SURVENUS A L'ECOLE DE PLONGEE de 2016 à 2019.
Immersion pulmonary edema is a newly discovered accident. This accident, contextual and multifactorial, affects two very distinct populations: young athletes and older divers with cardiovascular risk factors. At the Saint Mandrier Diving School, all initial training for army divers takes place. Diving accidents are more important there than in the other units. To better understand the circumstances of the occurrence of OPI on the Diving School site and to try to limit their occurrence, we studied the OPI that occurred between 2016 and 2019. We studied 22 cases of OPI of which 59% are occurring during a kicking effort, different data from operational diving units. The occurrence of an OPI is favored on this site, in addition to other known factors, by stress and various aquatic ease exercises. Indeed, the kicking practiced in an intense way increases the cardiac output which with the blood shift associated with a hydrostatic pressure gradient to negative inspiratory pressure favors the occurrence of OPI. The prevention of these accidents goes through the limitation of pulmonary pre-edema before a dive or a major effort of natation.
Fichier principal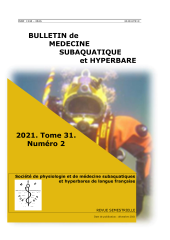 Bulletin MSH 2021 tome 31-2[15005].pdf (1.1 Mo)
Télécharger le fichier
Origin : Explicit agreement for this submission