Verbal derivation in Kambaata (Cushitic), with a focus on the encoding of noncausal/causal alternations
Kambaata, a Cushitic language of Ethiopia, has a rich verbal morphology. This paper first sets out to describe its productive verbal derivation processes, i.e. the forms and functions of the causative, the passive and the middle (autobenefactive) derivation. In the second part, the study starts from Haspelmath's (1993) list of 31 verbal concepts to determine the preferred morphological strategies to express noncausal/causal alternations. The analysis shows that the causative strategy is predominant in Kambaata, but that the decausative strategy follows closely behind. If the whole documented lexicon including the numerous ideophones are considered, the equipollent strategy is a very important third strategy. Kambaata has only a single labile verb but otherwise distinguishes consistently between transitive and intransitive verbs. Finally, two suppletive verb pairs are found in the list: 'die/kill' and 'finish (intr./tr.)'.
Le kambaata, langue couchitique d'Éthiopie, possède une riche morphologie verbale. Cet article se propose d'abord d'en décrire les processus productifs de dérivation, c'est-à-dire les formes et les fonctions du causatif, du passif et du moyen (autobénéfactif). Dans une deuxième partie, l'étude prend comme point de départ la liste des 31 concepts verbaux considérés par Haspelmath (1993) afin de déterminer les stratégies morphologiques privilégiées pour exprimer les alternances noncausal/causal. Il est démontré que la stratégie causative est la plus fréquente en kambaata, suivie de près par la stratégie décausative. Si l'on prend en compte l'ensemble du lexique, y compris les nombreux idéophones, la stratégie équipollente est, quant à elle, la troisième stratégie en ordre d'importance. Le kambaata n'a qu'un seul verbe labile mais, pour le reste, il fait une distinction nette entre les verbes transitifs et intransitifs. Enfin, on trouve dans cette langue deux paires de verbes supplétifs dans la liste : 'mourir/tuer' et 'finir (intr./tr.)'.
Fichier principal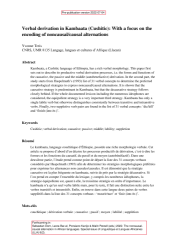 Treis_Kambaata_Noncausal_causal_2022-07-04.pdf (1.37 Mo)
Télécharger le fichier
Origin : Files produced by the author(s)