Transmission et dynamique des parlers du Croissant
Der Croissant linguistique ist eine Übergangszone zwischen der langue d'oc und der langue d'oïl. Die Dialekte dieser Zone sind heutzutage sehr gefährdet. Seit den 1940er Jahren wurden diese Dialekte in den Familien nicht mehr weiter gegeben; daraus folgt, dass die muttersprachlichen Sprecher relativ alt sind. Jedoch kann man seit ungefähr zehn Jahren feststellen, dass die Sprecher ein gewisses Bewusstsein bezüglich des Zustandes und der Zukunft ihrer Dialekte entwickelt haben, was dazu führte, dass an gewissen Orten verschiedene Initiativen ergriffen wurden. In diesem Artikel wollen wir vier Ortsvereine näher betrachten, die sich in Bezug auf Größe, Zielsetzung und Aktivitäten unterscheiden. Für jeden dieser Vereine untersuchen wir ihre Ziele, ihre Akteure, die Räume, in denen sie wirken, sowie ihre Haltung gegenüber der sprachlichen Variation. Wir untersuchen auch, inwieweit sie die neuen Technologien einsetzen und die Vorteile, die sie dadurch erzielen können. Des weiteren interessieren wir uns für die Frage der Standardisierung der Sprache und wie die Mitglieder dieser Vereine darüber denken. Schließlich wenden wir uns der Frage der Wiederbelebung der Sprache zu, die die einzige Möglichkeit deren Gebrauch zu fördern darstellt.
The linguistic Crescent is the transitional area between langue d'oc and langue d'oïl. Today, the Crescent varieties are highly endangered. Since the 1940s, these varieties have not been passed over to the next generations and most of the remaining native speakers are now elderly people. However, during the last decade, there has been a growing awareness among those speakers regarding the situation and future of their varieties, which has led them to undertake several local initiatives. In this paper, we focus on four local associations, which differ from each other in terms of size, goals and activities. For each of these, I study their respective goals, members, fields of action and their views regarding language variation. We also take into account the way they make use of new technologies and the advantage that ensue from this use. Furthermore, we examine the issue of language standardisation and feelings of the association members to this respect. Lastly, we consider the question of language revitalisation, which is now the sole actual possibility to enhance the practice of the Crescent varieties.
L'aire du Croissant correspond à la zone de transition entre oc et oïl. Les parlers du Croissant sont aujourd'hui extrêmement menacés. Depuis les années 1940, ces parlers ont cessé d'être transmis dans le cadre familial et par conséquent, les locuteurs natifs sont relativement âgés. Cependant, depuis une dizaine d'années, on constate une prise de conscience de la part des locuteurs concernant l'état et l'avenir de leurs parlers et l'émergence de nombreuses initiatives locales. Dans cet article, nous nous intéressons à quatre associations locales qui diffèrent entre elles quant à leur taille, leurs objectifs et leurs activités. Pour chacune d'entre elles, nous étudions leurs objectifs, leurs acteurs, les espaces dans lesquels ils agissent, ainsi que leurs positions concernant la variation de la langue. Nous étudions également leur degré d'utilisation des nouvelles technologies et l'avantage que cela confère à leurs actions. Nous nous intéressons encore à la standardisation de la langue et à ce qu'en pensent les membres de ces associations. Enfin, nous nous penchons sur la question de la revitalisation linguistique, qui reste désormais la seule possibilité de relancer la pratique des parlers concernés.
Fichier principal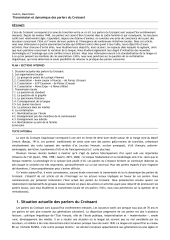 2020 - Transmission et dynamique des parlers du Croissant.pdf (105.23 Ko)
Télécharger le fichier
Origin : Explicit agreement for this submission