Healthiness Outside and Hygiene/Safety Inside. A Blind Spot in Public Policy in France Since the Years 1810 to 1917?
Hygiène intérieure et salubrité extérieure : un point aveugle de l'action publique ?. Chronique de deux domaines séparés en France (1810-1917)
This article examines the consequences of a decision taken by France in 1810. Contrary to numerous other European powers, this country dealt with issues of health outside establishments (the negative environmental impact and pollution caused by industries) by creating special legislation for unhealthy, troublesome or dangerous industries – legislation that neglected to consider questions of health and safety on the inside (the health and safety of working conditions within establishments). Admittedly, the reform of 1917 confirmed this choice, but by taking into account advances in health and safety regulations since 1893 for common law establishments subject to the Labour Code. The result is a dichotomy between special regulations concerning industrial risks outside identified industries (coming under administrative law and responsibility) and regulations based on common law covering the occupational health and safety of employees within these industries, based on the Labour Code (industrial law). This has had major consequences up to the present day (in terms of accidents and working conditions) on how these identified industries are inspected, monitored and controlled, which prevents considering occupational hazards and industrial risks together and clarifying interactions that exist between them.
Cet article se propose de revenir sur les conséquences d'un choix opéré par la France en 1810. À la différence de nombreuses autres puissances européennes, ce pays se saisit alors des questions de salubrité extérieure (autrement dit les nuisances et pollutions industrielles) en inventant une législation d'exception, celle des établissements insalubres, incommodes ou dangereux, qui refuse de prendre en compte les questions d'hygiène et de sécurité intérieures (les conditions sanitaires de travail au sein des entreprises). Si elle confirme ce choix, la réforme de 1917 tient également compte des avancées de la réglementation de l'hygiène et de la sécurité depuis 1893 dans les établissements de droit commun soumis au Code du travail. En résulte une dichotomie juridique entre une réglementation d'exception concernant les nuisances extérieures des établissements classés (relevant du droit et du pouvoir administratifs), et une réglementation de droit commun sur l'hygiène et la sécurité du personnel de ces mêmes établissements, qui relève du Code du travail (droit social privé). En termes d'accidents et de conditions de travail, les conséquences jusqu'à aujourd'hui sont très lourdes sur la manière d'inspecter, de surveiller et de contrôler les établissements classés dans la mesure où elles empêchent de penser conjointement, dans leurs interactions et leurs implications sociales et sanitaires, les risques industriels et les risques professionnels.
Fichier principal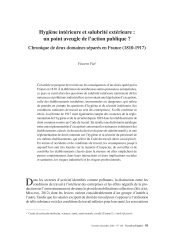 cermes-viet1.pdf (139.81 Ko)
Télécharger le fichier
Origin : Publisher files allowed on an open archive