Projections hydro climatiques dans la province oléicole de Jaén (Andalousie)
This study aims to quantify the climate change impact on water resources in Jaén province (Andalousia) where 80% of the Spanish olive oil is produced in orchard that are partially irrigated, using surface water resources. The evolution of rainfall and temperature is assessed between historical and future period based on 6 climate projections. The projected climatic conditions show a 1.4°C temperature increase and a 10% rainfall reduction by 2050.The projected climatic variables are then used as inputs of a hydrologic model in order to get a preliminary future flows estimation. In Andalusia, flow simulation represents a methodological challenge given the intense anthropogenic modifications of hydrographic network and water abstraction for irrigation. The results suggest a 21% decrease in flow (mainly observed in winter) and a dry season extension.
Cette étude a pour objectif de quantifier l'impact du changement climatique sur les ressources en eau de la province de Jaén (Andalousie), où 80 % de l'huile d'olive espagnole est produite en partie dans les verges irrigués par des eaux de surface. L'évolution des pluies et des températures est évaluée entre une période historique et future en se basant sur 6 projections climatiques régionales. Les projections climatiques indiquent une augmentation de la température de 1,4°C et une réduction des précipitations de 10% à l'horizon 2050.Ces projections climatiques sont ensuite utilisées en entrées d'un modèle hydrologique afin d'avoir une première estimation des débits futurs.En Andalousie, la simulation des débits représente un défi méthodologique compte-tenu de l'extrême artificialisation des réseaux hydrographiques et des prélèvements en eau destinés à l'irrigation.Les résultats obtenus suggèrent une diminution moyenne des débits de 21 % (principalement observés en hiver) et un allongement de la saison sèche.
Fichier principal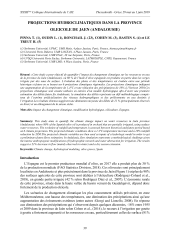 Thessaloniki2019_39.pdf (31.14 Mo)
Télécharger le fichier
Origin : Publication funded by an institution