Sarah Fielding en France: Enquête sur la réception d'une romancière anglaise
In the 18th century, women writers often hid their identity under asteronyms and apparently did not aspire to literary fame. Ignoring the gendered roles imposed by contemporary society, they embarked on this literary adventure and enjoyed great success in their day. In England, Sarah Fielding (1710-1768), sister of Henry Fielding and esteemed friend of Samuel Richardson, was one of them. This investigation delves deep into the archives to discover the French editions of her works and the reception that critics and the public gave to The Adventures of David Simple (1744) and Ophelia (1760), two of the eight novels she published between 1744 and 1760.
Le titre de cet ouvrage peut paraître audacieux. Au XVIIIe siècle, certaines femmes écrivains cachent leur identité sous des astéronymes et n'aspirent apparemment pas à la gloire littéraire. Par-delà les rôles genrés imposés par les mentalités dominantes, elles se sont laissé tenter par l'aventure littéraire et ont connu, en leur temps, de beaux succès d'estime. En Angleterre, Sarah Fielding (1710-1768), soeur de Henry Fielding et amie de Samuel Richardson, qui édita plusieurs de ses livres, est de ce nombre. Cette enquête plonge au coeur des archives pour découvrir les éditions françaises de Sarah Fielding et l'accueil que la critique et le public réservèrent à ses deux romans traduits au XVIIIe siècle.
Fichier principal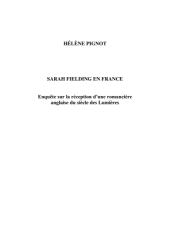 Sarah Fielding en FRANCE Enquête sur la réception d'une romancière anglaise du siècle des Lumières.pdf (4.11 Mo)
Télécharger le fichier
Origin : Publisher files allowed on an open archive