The tRNA identity landscape for aminoacylation and beyond
tRNAs are key partners in ribosome-dependent protein synthesis. This process is highly dependent on the fidelity of tRNA aminoacylation by aminoacyl-tRNA synthetases and relies primarily on sets of identities within tRNA molecules composed of determinants and antideterminants preventing mischarging by non-cognate synthetases. Such identity sets were discovered in the tRNAs of a few model organisms, and their properties were generalized as universal identity rules. Since then, the panel of identity elements governing the accuracy of tRNA aminoacylation has expanded considerably, but the increasing number of reported functional idiosyncrasies has led to some confusion. In parallel, the description of other processes involving tRNAs, often well beyond aminoacylation, has progressed considerably, greatly expanding their interactome and uncovering multiple novel identities on the same tRNA molecule. This review highlights key findings on the mechanistics and evolution of tRNA and tRNA-like identities. In addition, new methods and their results for searching sets of multiple identities on a single tRNA are discussed. Taken together, this knowledge shows that a comprehensive understanding of the functional role of individual and collective nucleotide identity sets in tRNA molecules is needed for medical, biotechnological and other applications.
Les ARNt sont des partenaires clés de la synthèse protéique dépendante du ribosome. Ce processus dépend fortement de la fidélité de l'aminoacylation de l'ARNt par les aminoacyl-ARNt synthétases et s'appuie principalement sur des ensembles d'identités au sein des molécules d'ARNt composées de déterminants et d'antidéterminants empêchant les erreurs de chargement par des synthétases non spécifiques. De tels ensembles d'identités ont été découverts et initialement décrits dans les ARNt de quelques organismes modèles, et leurs propriétés ont été généralisées en tant que règles d'identité universelles. Depuis lors, le panel d'éléments d'identité régissant la précision de l'aminoacylation des ARNt s'est considérablement élargi, mais le nombre croissant d'idiosyncrasies fonctionnelles signalées a entraîné une certaine confusion. Parallèlement, la description d'autres processus impliquant les ARNt, souvent bien au-delà de l'aminoacylation, a considérablement progressé, ce qui a permis d'élargir leur interactome et de découvrir de nouvelles identités multiples sur la même molécule d'ARNt. Cette revue met en lumière les principales découvertes sur la mécanistique et l'évolution des identités de l'ARNt et des identités similaires à l'ARNt. En outre, de nouvelles méthodes et leurs résultats pour la recherche d'ensembles d'identités multiples sur un seul ARNt sont discutés. L'ensemble de ces connaissances montre qu'une compréhension globale du rôle fonctionnel des ensembles d'identités nucléotidiques individuelles et collectives dans les molécules d'ARNt est nécessaire pour les applications médicales futures, biotechnologiques et autres.
Fichier principal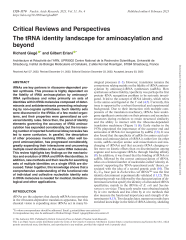 gkad007(1).pdf (2.51 Mo)
Télécharger le fichier
Origin : Publisher files allowed on an open archive
Licence : CC BY - Attribution