The use of natural resources at Mentesh Tepe during the Late Chalcolithic period and the Early Bronze Age
This article gives the results of the analyses made by several specialists on some of the raw materials (metal, obsidian and semi-precious stones) found at Mentesh Tepe (Middle Kura Valley, Azerbaijan) during the Late Chalcolithic and Early Bronze Age periods. They show that the procurement zone extends between 30 to 300 km away from the site. The copper and arsenic sources used during the Late Chalcolithic period are confined to the volcanogenic massif sulfide deposits (VMS) in the Lesser Caucasus to the south of Mentesh Tepe. Questions are still raised on their origins during the Early Bronze Age, with gold and tin during the same period yet of unknown provenance. Obsidian analyses show that various sources were used, some being very far (actual Turkey). Gegham, in Armenia, was by far the most important one during the Late Chalcolithic period, while Chikiani, in Georgia, has possibly played this role during the EBA. Finally, the raw material used for the beads come from ophiolitic series and volcanic contexts in the Lesser Caucasus, at a short distance from Mentesh Tepe.
Cet article présente les résultats d'analyses faites par plusieurs spécialistes sur une partie des matières premières (métal, obsidienne et pierres semi-précieuses) trouvées à Mentesh Tepe (moyenne vallée de la Kura, Azerbaïdjan) et datant des périodes du Chalcolithique récent et du début de l'âge du Bronze. Ils montrent que la zone d'approvisionnement se situe à une distance de 30 à 300 km du site. Les sources de cuivre et d'arsenic utilisées pendant le Chalcolithique récent se trouvent dans les « gisements de sulfures massifs volcanogènes » (VMS) qui s'étirent au sud du site dans le Petit Caucase. La question de leur origine pendant le début de l'âge du Bronze reste posée, de même que celle de l'or et de l'étain à la même époque. Les analyses de provenance de l'obsidienne montrent que plusieurs sources ont été utilisées, dont certaines, situées en Turquie actuelle, étaient très éloignées. Gegham, en Arménie, a été de loin la zone d'approvisionnement la plus importante au Chalcolithique récent, tandis qu'il est possible que Chikiani, en Géorgie, ait joué ce rôle au début de l'âge du Bronze. Enfin, les matières premières utilisées pour les perles viennent de couches ophiolitiques et de contextes volcaniques du Petit Caucase situés non loin de Mentesh Tepe.
Fichier principal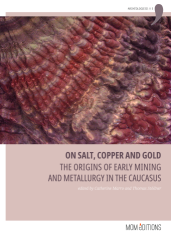 onsalt_19_astruc.pdf (7.34 Mo)
Télécharger le fichier
Origin : Publisher files allowed on an open archive