"Some cases of separation on the grounds of male adultery between the 16th and 17th centuries: arguments and issues"
"Quelques cas de séparation pour adultère masculin entre XVI e et XVII e siècles : arguments et enjeux".
- A partir d'études de cas centrées sur des demandes de séparation de couples par le moyen judiciaire de l'adultère masculin ou du concubinage aux XVIe et premier XVIIe siècles, cet article mène une comparaison entre deux types de juridictions compétentes pour ce chef, l'une laïque et royale, l'autre ecclésiastique ; et deux types de procédures, l'une accusatoire et l'autre inquisitoire. Pour les premières, l'accusation d'adultère renvoie à plusieurs séries de manquements du mari qui sont d'ordre sexuels, génératifs, économiques et patrimoniaux mais aussi, moraux et politiques. Dans les secondes, la mise en défaut est d'ordre formaliste et de contrevenue à l'ordre sacramentel, à l'exclusion d'autres considérations. Les cas soumis à l'examen judiciaires montrent de leurs côtés des pratiques de couple non conformes aux normes officielles.
Fichier principal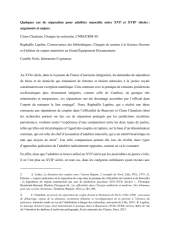 Cas de séparation pour adultère_ Chatelain Lapotre Nous.pdf (258.26 Ko)
Télécharger le fichier
Origin : Files produced by the author(s)