‬أثر شبكات التواصل الاجتماعي في تسويق المقصد السياحي في ظل جائحة كوفيد-19 "دراسة تحليلية في الوكالات السياحية في الجزائر".
The impact of social networks on marketing the tourist destination in light of the Covid-19 pandemic "An analytical study of the tourism agencies in Algeria".
يعتبر القطاع السياحي من القطاعات الأكثر استفادة من شبكات التواصل الاجتماعي، وقد تعاظمت مكانة هذه المواقع من خلال الدور الذي لعبته في تسويق المقصد السياحي، وخصوصا المنتجات السياحية الداخلية للدول خلال فترة الجائحة العالمية (covid-19). ولتحقيق أهداف الدراسة تم الاستعانة بالمنهج الوصفي التحليلي، وتجميع البيانات من خلال الأدبيات المنشورة والاحصائيات الدولية والاعتماد على مقابلة. وخلصت الدراسة الى أنّ استخدام شبكات التواصل الاجتماعي ساهم في زيادة عدد الزبائن المتعاملين مع الوكالات عينة البحث.
The impact of social networks on marketing the tourist destination in light of the Covid-91 pandemic "An analytical study of the tourism agencies in Algeria". The tourism sector is considered one of the sectors that benefit the most from social networks; The status of these sites has increased through the role they played in marketing the tourist destination, especially the internal tourism products of countries during the pandemic (covid-19); to achieve the objectives of the study, the descriptive analytical approach was used, and data was collected through published literature and international statistics, as well as relying on interviews. The study concluded that the use of social networks contributed to an increase in the number of clients dealing with the agencies of the research sample
Fichier principal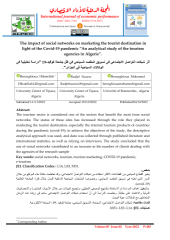 The impact of social networks on marketing the tourist destination in light of the Covid-19 pandemic.pdf (1.17 Mo)
Télécharger le fichier
Origin : Publisher files allowed on an open archive