De la crise politico-institutionnelle au scandale public : la question du genre dans le processus d'impeachment de Dilma Rousseff.
By mobilizing the tools of crisis sociology, political communication and gender studies in particular, this research project focuses on the relationships established between the media field, the space of social movements and the Brazilian institutional arenas during the impeachment process of President Dilma Rousseff. Adopting the model of the three poles of politics, conceived by the French sociologist Erik NEVEU, this work pretends to reconstruct the political-institutional crisis that shook Brazil in 2015 and 2016, through a triangular and simultaneous analysis of the conducts of political actors, the political narratives of press and the manifestations of public opinion (multisectoral mobilizations). The aim of this work is therefore to show how the gender discourse, in the Brazilian political space, was instrumentalized by the actors of the pro-impeachment movement and converted, thus, a tool of objectification and meaning of the state of crisis (BERGER and LUCKMANN). With this demonstration, i.e., by identifying the instrumentality of the bicategorization male/female within the framework of historically situated power stakes (case study of Brazil), we hope to confirm the relevance of gender as a category of historical analysis (SCOTT) and to reinforce the importance of gender parity within political institutions (female representation from above). Finally, we will join the analysis of the political scientist Aníbal PEREZ-LIÑÁN, according to which a new model of political instability is being implemented in Latin America, since the 1990s, based on the trivialization of impeachment and the personalization of the political game.
En mobilisant les outils de la sociologie des crises, de la communication politique et notamment des études de genre, ce projet de recherche porte sur les relations établies entre le champ médiatique, l'espace des mouvements sociaux et les arènes institutionnelles brésiliennes à l'époque du processus d'impeachment de la présidente Dilma Rousseff. En adoptant le modèle des trois pôles de la politique, conçu par le sociologue français Erik NEVEU, ce travail prétend reconstruire la crise politico-institutionnelle qui a secoué le Brésil en 2015 et 2016, par le biais d'une l'analyse triangulaire et simultanée des conduites des acteurs politiques, des récits politiques de presse et des manifestations de l'opinion publique (mobilisations multisectorielles). Le but de ce travail est donc de montrer comment le discours de genre, dans l'espace politique brésilien, fut instrumentalisé par les acteurs du mouvement pro-impeachment et converti, ainsi, un outil d'objectivation et signification de l'état de crise (BERGER et LUCKMANN). Avec cette démonstration, i.e., en identifiant l'instrumentalité de la bicatégorisation homme/femme dans le cadre des enjeux de pouvoir historiquement situés (étude de cas du Brésil), nous espérons confirmer la pertinence du genre comme catégorie d'analyse historique (SCOTT) et renforcer l'importance de la parité de sexe au sein des institutions politiques (représentativité féminine par le haut). Finalement, il sera question de joindre l'analyse du politiste Aníbal PEREZ-LIÑÁN, selon laquelle un nouveau modèle d'instabilité politique se met en place en Amérique Latine, depuis les années 1990, fondé sur la banalisation de l'impeachment et la personnalisation du jeu politique.
Fichier principal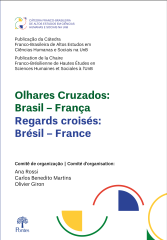 Olhares_Cruzados_Ebook_Chapitre Antonio.pdf (599.46 Ko)
Télécharger le fichier
Origin : Explicit agreement for this submission